[06-02-2008] The Praxis HammerHeads Trophy will be played on March 14-16 2008.
Due to some cancellations, there is still room for three more teams.
Look in the Calendar section for details.
[02-02-2008] The Icerink in Viry has been rebuild, and the Club has risen from the ashes as a worthy Phoenix.
Therefor it is entirely my pleasure to announce the 2008 Viry-Cup!
Look in the Calendar section for details.
[23-04-2007] Last weekend was the Coupe de l' Amitiť in Luxemburg.

And you will be surprised that, after all these years, Flemming Christensen has finally entered the ranks of the official Margarita Members!
Flemming: Congratulations, and welcome!
[15-07-2006] Bo Kleimann and the Queen of Luxemburg are going to move to somewhere near Silkeborg (DK). They still need some volunteers helping out with the decoration of the interior of their new home.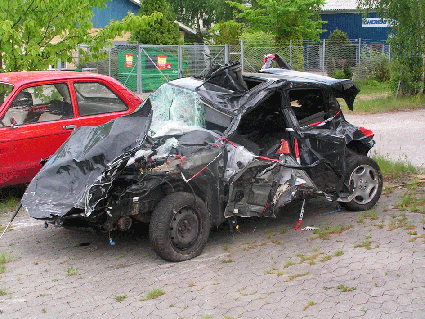 [15-07-2006] Yes, Allan Ploug came out of these remains of what used to be a Peugeot 106 alive (It's alive, but not as we know it!) :-)
A few cracked ribs (50 fractures), a dislocated collarbone (won't tell you where it is right now, but it will never be back where it belonged), and a few other minor things, but happy with all the colors he's been experiencing from his medicine!
The world's a different place all together!
But we're happy you're still around, friend!
[15-07-2006] I know this must come as a shock to many of you:
but we're back on-line!
It will take a while for this new site to be as good as the old one, but we're doing the best we can.

Less complicated, but more up-to-date (we try!!).